10% profit
on e-commerce orders
Over 100% increase
in e-commerce orders since the start in 2020 until June 2021
2000 online orders
every week from this store alone
29 minutes and 37 seconds
average fulfillment time on online orders
StrongPoint technology driving efficiency and a mind-blowing 10% profitability
About ICA Maxi Erikslund
ICA is one of the largest grocery retailers in Scandinavia
ICA Maxi Erikslund is a 11 007 square meters large (118 478 square feet) ICA store west of Stockholm in Sweden
The store has been fulfilling grocery e-commerce orders since 2015 using technology supplied by StrongPoint
ICA Maxi Erikslund began their grocery e-commerce journey in 2015 as was one of the very first providers in the region and has been using a variety of StrongPoint's grocery e-commerce solutions since the beginning.
Their early adopter move has enabled them to grow and sustain substantial market share and are now processing over 2,000 online orders for click & collect pickup and home delivery every week. By their own analysis, their e-commerce orders are being fulfilled with at around 10% profitability, peaking at 11% in recent weeks.
For the store, the key to profitability is efficiency gains driven by technology provided by StrongPoint, in particular StrongPoint's Order Picking and Drive Thru solutions.
"The primary challenge with grocery e-commerce is maintaining high levels of efficiency. Because we started early, we have had the time to find efficiency savings throughout the fulfillment process. Over the years we have been working in close cooperation with StrongPoint helping us find new and innovative ways to improve our operations and achieve the high efficiency rates we have today. StrongPoint has been fantastic with listening to our feedback and adapting their smart solutions to help us continuously find efficiency savings," says Therese Kvist, owner and e-commerce sales manager at ICA Maxi Erikslund.
StrongPoint's Order Picking solution providing average in-store picking rates of 270 items per labor hour
StrongPoint's Order Picking solution was first launched 20 years ago and has been constantly upgraded and adapted to make it more and more efficient, following close feedback and collaboration with its grocery retailer customers.
"Our in-store pickers average 270 items per labor hour across all product categories. When it comes to zone-picking, our most productive picker is managing to pick up to 630 items per labor hour. The best thing about StrongPoint's picking solution is that you can customize it to your store layout and adjust and optimize picking zones and routes accordingly. This has made our picking incredibly smooth and efficient."

Therese Kvist, owner and e-commerce sales manager at ICA Maxi Erikslund.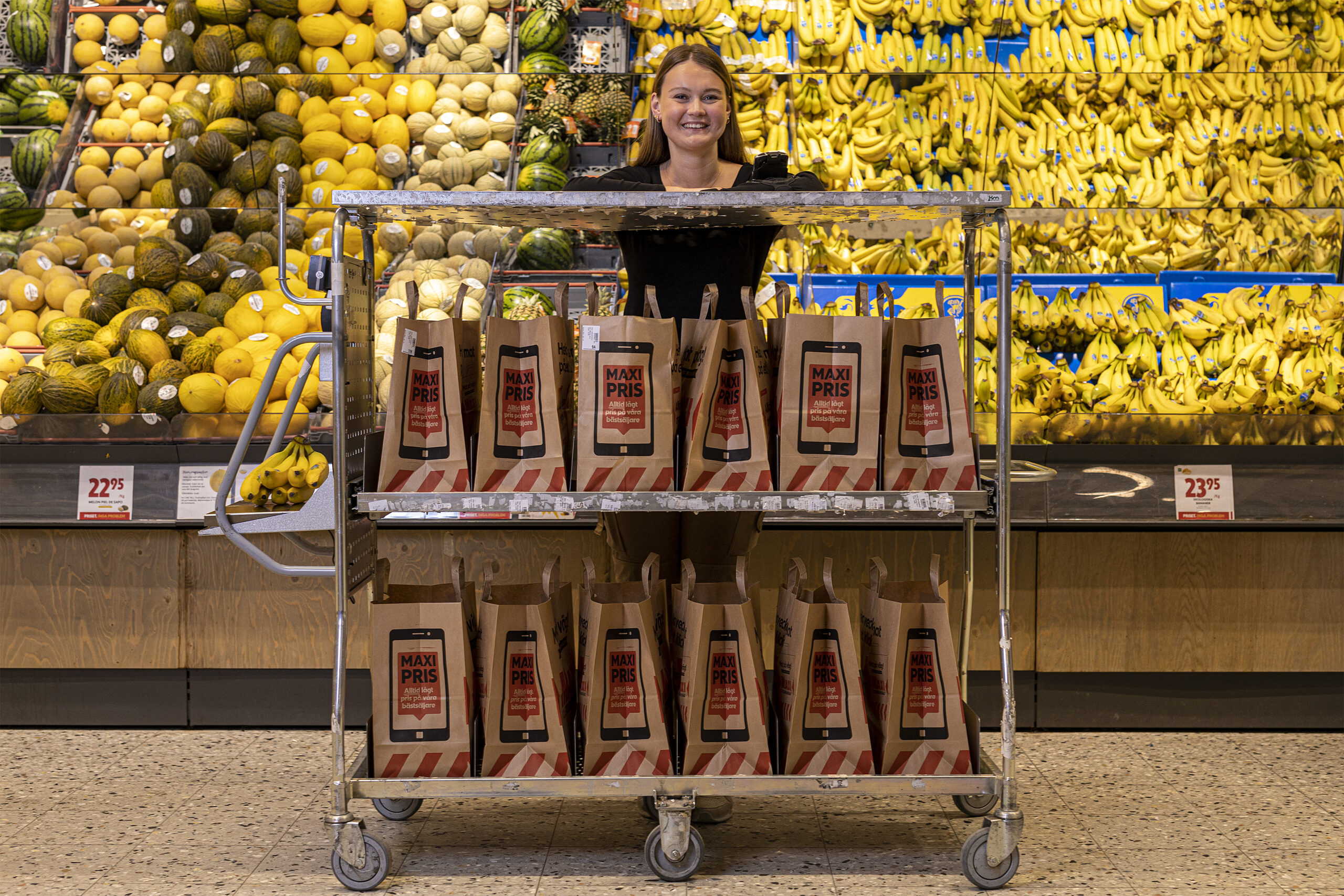 Order Picking
StrongPoint Order Picking is the world's fastest manual picking solution with customers reaching picking rates of 240-300 items per hour. It's a cloud-based solution designed to increase the accuracy and efficiency of in-store staff. Our technology augments manual processes to make them 99.99% accurate, and up to 7x more efficient than pen and paper.
Learn more
Saving 2,000 minutes of labor each week with StrongPoint's Drive Thru solution
The vast majority – around 85% – of ICA Maxi Erikslund's online customers choose to pick-up their order at the store rather than home delivery.
At first the store used curbside pick-up, asking each customer for name and order number and then delivering the right order. However, this solution was not optimal in terms of efficiency and that's why the store invested in StrongPoint's Drive Thru solution.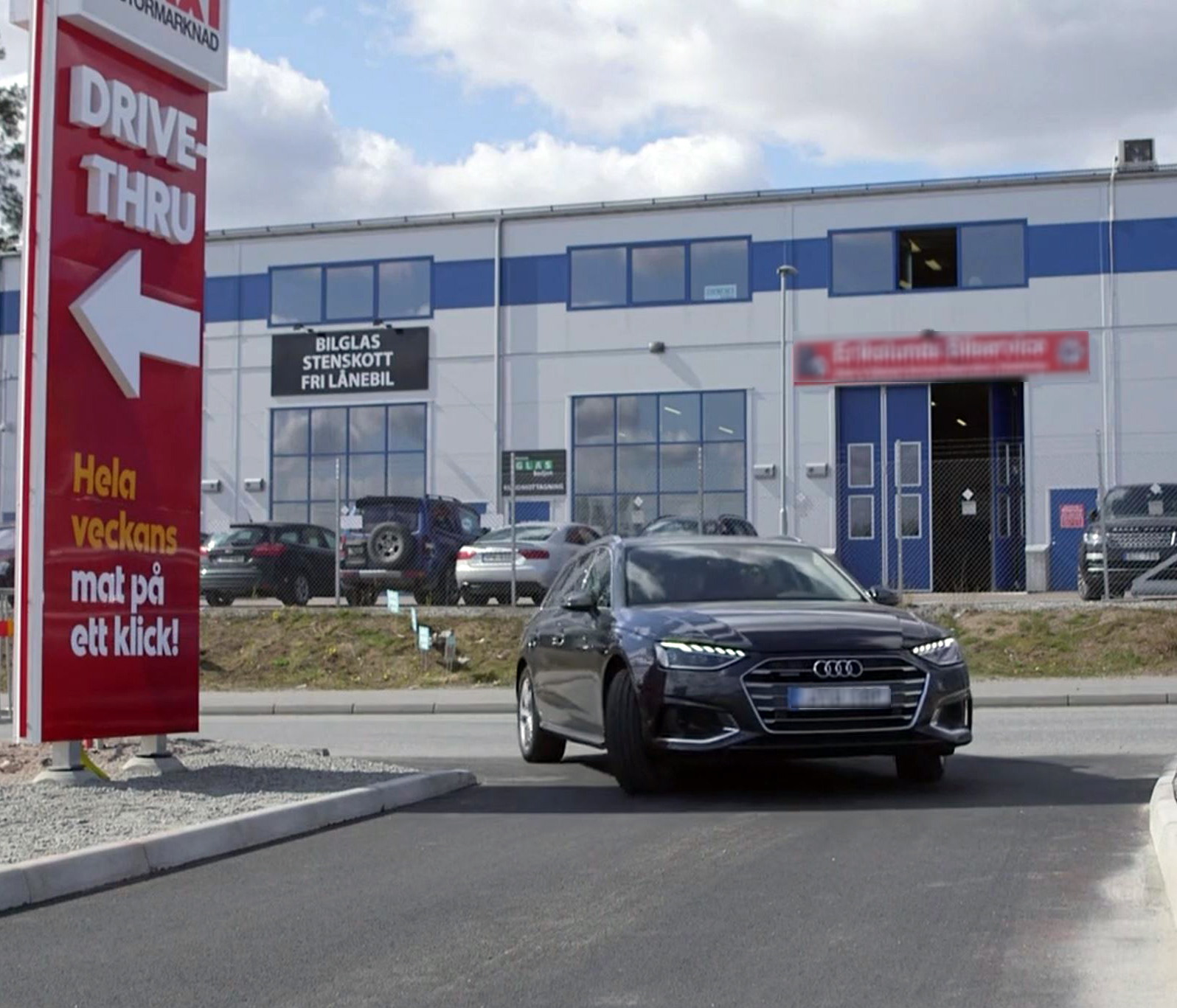 Drive Thru
StrongPoint's Drive Thru solution, often referred to as curbside pick-up, is made for grocery retailers to have an efficient pick-up solution for placing online orders in the cars of customers. The customer doesn't even have to get out of the car, which often gives this option a positive customer experience. Our system combines license plate recognition with StrongPoint's e-commerce software, making it possible to alert staff which order is to be delivered when a customer drives up to the store, reducing the waiting time.
Learn more
StrongPoint's Drive Thru solution automatically registers the license plate of the customer's car when they enter the pickup area, Customers provide their car's license plate when placing their online order so the system and automates the process of alerting the store staff manning the curbside pickup area to bring the order to the car.
"Compared to our previous solution we save at least 1 minute per order with StrongPoint's Drive Thru solution as it has been purpose-built to make the entire workflow as fast and labor efficient as possible. When we are processing orders at scale that efficiency saving accumulates fast and means a big saving in terms of overall labor costs," says Therese Kvist.
And right she is, 2,000 minutes saved per week is the equivalent of 33.3 labor hours saved per week. That is almost one full full-time employee equivalent labor saved every week.
Achieving 10% profitability with grocery e-commerce
The number sounds almost too good to be true, as anyone working grocery retail is fully aware of. When we drill down to the specifics, we learn that the profitability calculation is extensive.
"The profitability calculation includes everything. Rent on the building, staff, cars, royalties to the ICA corporation, depreciation of e-commerce assets, shelving, picking etc."

Therese Kvist, owner and e-commerce sales manager at ICA Maxi Erikslund.
And yet the numbers are as high as 10% profitability. Therese says it comes from a dynamic pricing profile from ICA where they always have competitive prices combined with in-store efficiency savings. "We are actually one of the most efficient stores in all of Sweden," Therese says proudly.
Never been more fun to come to work
An important factor in this success story is not only to be an early adopter and continuously improve on the routines and smart solutions from StrongPoint, but also to engage the staff and make it easier and less stressful to do in-store picking.
"Our staff say that it has never been more fun to go to work," says Therese Kvist
When asked whether Therese Kvist would recommend StrongPoint's grocery e-commerce solutions to other grocery retailers, the answer is clear.
"Absolutely – I would without doubt recommend StrongPoint to grocery retailers. Their solutions have been essential in driving our e-commerce efficiency and their service is great," says Therese Kvist.