StrongPoint's e-commerce solutions allowed grocery retailer ICA Lilla Edet to face the incredible increase in online demand
With the pandemic came an explosion in demand for online grocery shopping, pushing the capacity of the ICA store, located North of Gothenburg, to the absolute max. The solution became expanding with StrongPoint's e-commerce solutions, including Click & Collect Grocery Lockers and StrongPoint Order Picking complemented with electronic shelf labels.
"We needed to double our delivery capacity quickly and would never have been able to handle the volumes we have today without StrongPoint's solutions".
Patrik Johansson has been managing ICA-stores for 20 years and managed ICA in Lilla Edet north of Gothenburg for 11 years. The store is a part of the ICA Group, the largest grocery retail chain in Sweden and the market leader of online grocery shopping. Three years ago, Patrik believed it was time to increase the focus on e-commerce. He had noticed that several players who only focused on e-commerce had established themselves in the market and he did not intend to lose any market share to them. The store implemented e-commerce with StrongPoint's Order Picking solution right away.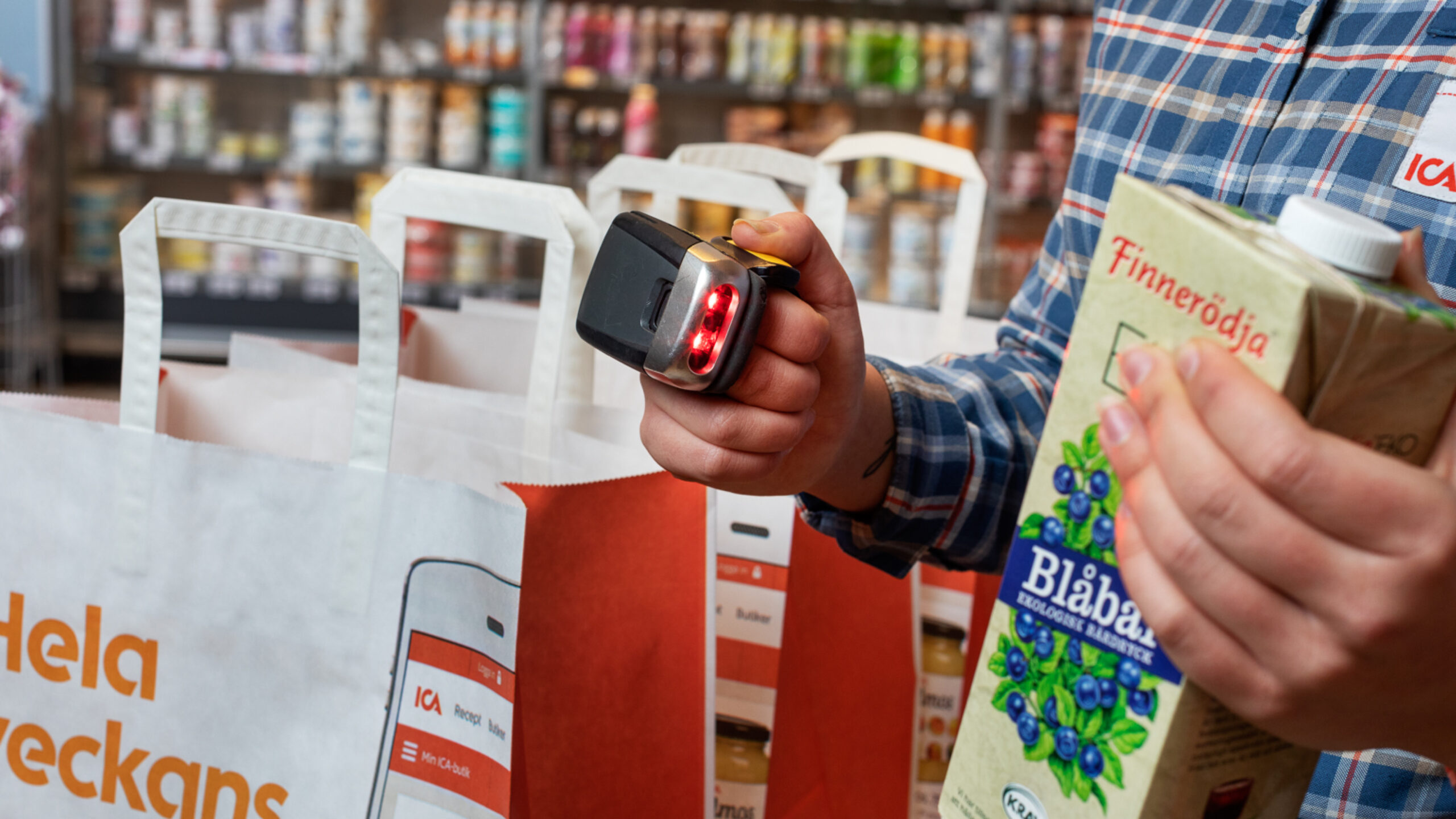 The e-commerce venture quickly became a success, and the store is today big in e-commerce. Patrik reveals that e-commerce orders today accounts for a large part of the total revenue – and this is where the growth is coming from. In addition, he says that their e-commerce increases by more than the market. Which is saying a lot, because in Sweden e-commerce grocery orders has increased by 95% in 2020. Moreover, the people of Sweden are clearly showing how they want to collect their online orders. Collecting the groceries at the store increased by 173% (!), while home delivery "only" increased by 55%.
In the spring of 2020, coinciding with the pandemic and increased demand for online groceries, ICA Lilla Edet's capacity hit the roof. The explosion of online demand and to collect the orders at the store made Patrik realize that they needed to scale up their solutions and increase capacity before fall in order to manage all the orders. It simply wouldn't be possible to meet the increased demand for in-store pick-up with the current system.
StrongPoint's
Click & Collect temperature-controlled grocery lockers quickly solved the capacity problem
First, Patrik thought about building an additional cooling room / cold room / refrigerated room in the store. However, he quickly realized that there was a faster and better investment available with StrongPoint's Click & Collect Lockers.
"My first thought was to build another cooling room / cold room / refrigerated room, but then I thought of the grocery lockers and that they could be a clever solution from a economical perspective. Much cheaper than to build an extra room. With StrongPoint's Click & Collect Lockers placed just outside the store we managed to double our capacity for in-store deliveries per time slot – and save between 500 000 and 1 000 000 SEK (about 60 000 – 120 000 USD) compared to building another room. Furthermore, this is a fantastic solution!" Says Patrik.
The Click & Collect Lockers from StrongPoint are purpose-built for grocery retailers and comes with 3 temperature zones (frozen, chilled and ambient), and they are built to work optimally even in the harsh climate of the Nordics. Furthermore, they come with a complete solution for IT-infrastructure, customer communication and age verification software.
"It was surprisingly easy and fast to have the lockers installed. It took us maximum one week to get everything into place and start using them, so it became a very efficient way to increase capacity. We are very satisfied", Patrick says.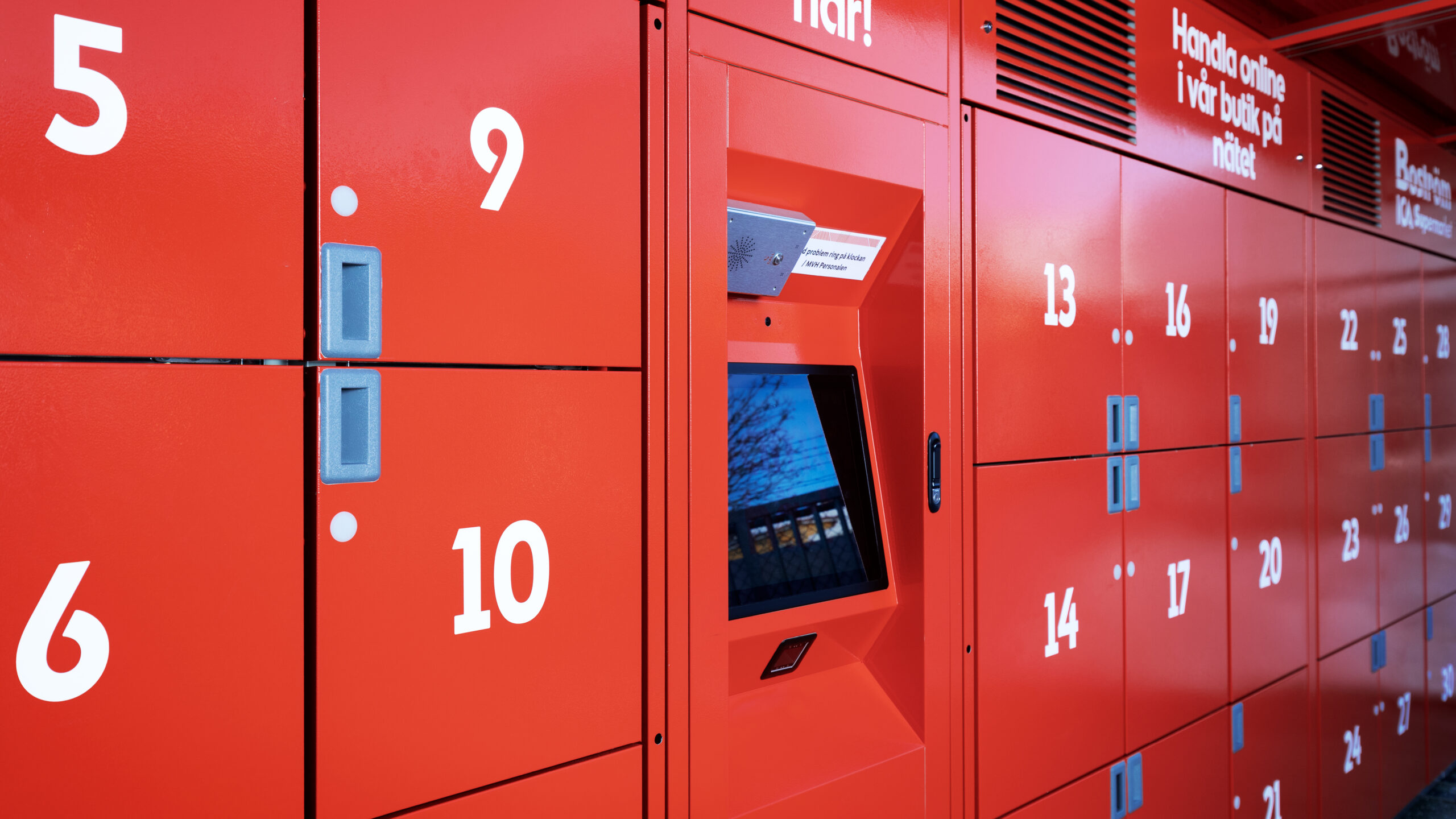 Ease of use gives
both happy customers – and happy staff members
As it is the online orders that drives the volume at the present time, the grocery lockers have attracted completely new customer groups, and are also receiving praise from existing customers.
"The customers are super-happy and grateful for the Click & Collect lockers from StrongPoint, amongst other signals we can get quite a few e-mails about this. They appreciate the smooth and frictionless process, so they don't have wait which inevitably happens with manual delivery, and that it is safe. In addition, we can tell that we are reaching out to completely new customers thanks to the lockers",
says Patrik.
The staff members also praise the new click & collect lockers. For them, the lockers mean less stress and not having to be interrupted in the middle of other tasks because customers arrive and ask for their orders. StrongPoint's system for the lockers is also easy and fast to use when loading. It becomes easier to plan and control their own time.
"Previously we had a solution with a bell that the customers rang when they arrived to pick up their orders. There was nothing rational in working like that. On the contrary, it created stress for the staff not knowing when it would ring and to be interrupted in the middle of other tasks in order to run back and forth. So the staff think StrongPoint's lockers is a great solution."
Eliminate wrong orders
with the Click & Collect Lockers
Not only are StrongPoint's Grocery Lockers a better alternative for in-store pick-up in terms of speed and cost, but they also help reduce order mistakes. Previously the staff would sometimes give out the wrong bag to the wrong customer in stressful periods with many customers waiting for their orders. A very common problem during rush hour for in-store pick-up. This kind of mistake has now essentially disappeared, which ICA Lilla Edet experiences as one of the biggest advantages of the lockers.
Efficient order picking
necessary for succeeding with grocery e-commerce
ICA Lilla Edet invested in StrongPoint's Order Picking solution early on when they began their e-commerce journey. StrongPoint Order Picking is an in-store picking solution which provides up to 7 times faster in-store picking speed than industry standard (best in class) and has the flexibility to fit any store and scale up and down based on the demand. The solution has ensured highly efficient in-store picking of online orders and contributed to ICA Lilla Edet's strong e-commerce position in the market today.
"We see great advantages with picking in-store compared to delivering from a central fulfillment center, not least because we can offer our customers our own goods / groceries from our bakery and fresh food counter. Without the picking solution e-commerce would never have worked because we have about 11 000 SKUs / items in our store", says Patrik.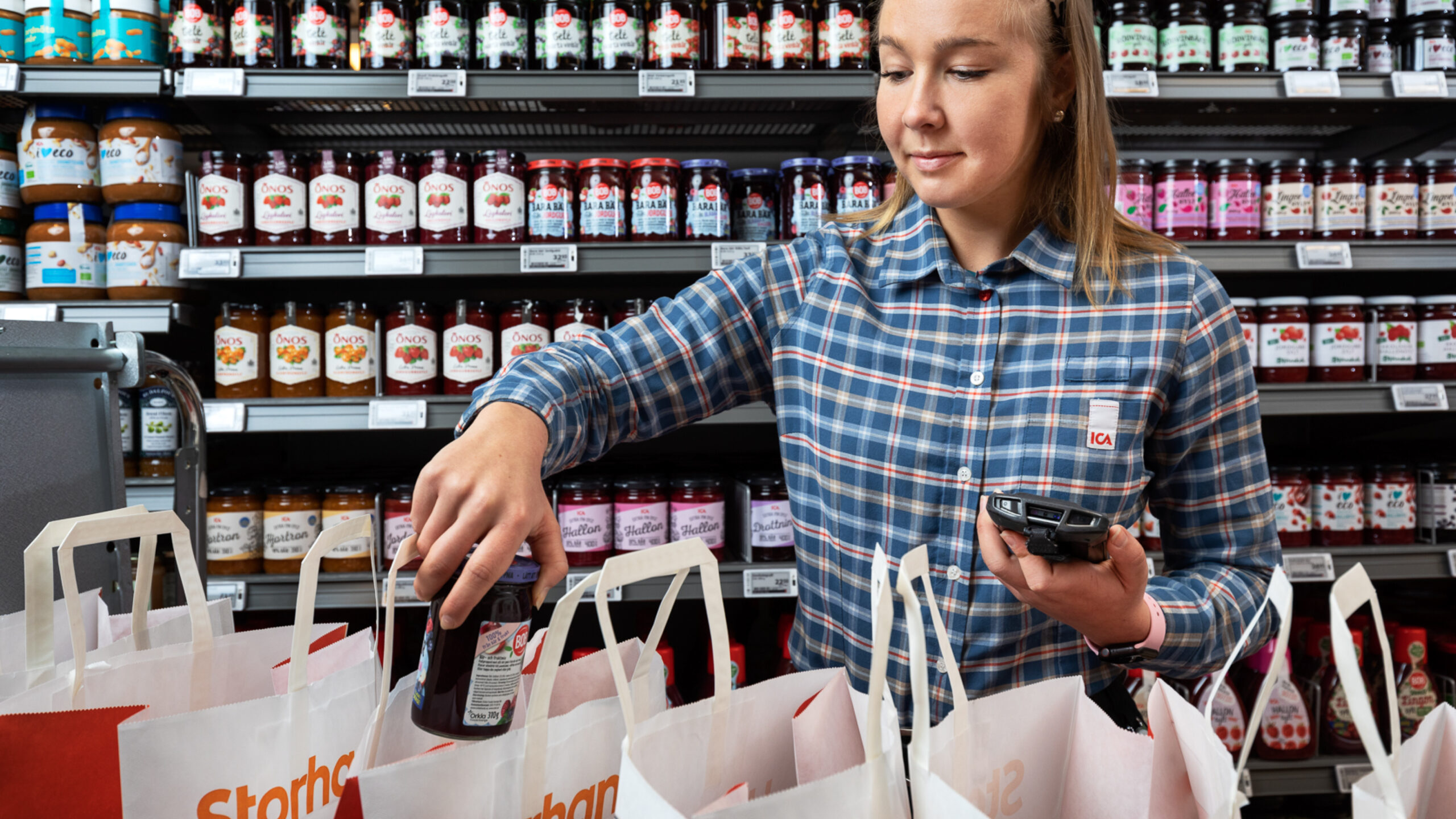 Now they have supplemented with pick-by-light, a function linked to Pricer's electronic shelf labels. What makes the picking even more efficient is that the picker sees a flashing light on the shelf label for the item to be picked next.
"For us, the extra function has several benefits. The biggest is probably that we have shortened the training time for new staff. For existing staff who are used to picking, it is especially helpful in shelf segments with many items with a similar look, such as spices and baby food. Now it is much faster and smoother to pick", says William Cander, operations manager for e-commerce, who joined the conversation.
External tests have shown that you can save an extra 6-9 seconds for each picked item when you add the pick-by-light function to StrongPoint Order Picking, in addition to reducing wrongly picked items by up to 30%, thereby saving large expenses for the store and increasing customer satisfaction.
StrongPoint exceeded the expectations
"In summary, StrongPoint's Click & Collect Grocery Lockers have worked far better than we could have expected. That is the spontaneous experience from all of us in the store", says Patrik. "We would not have been able to cope with the high volumes we have today without the solutions from StrongPoint. We can definitely recommend others to invest in their e-commerce solutions, especially if they are about to scale up their e-commerce."