Retail Suite – CashGuard
The Retail Suite – CashGuard is the key to your cash management operations. The software acts as a control system for your CashGuard solution and is designed to ensure both security and reliability as well as control and insight in your system.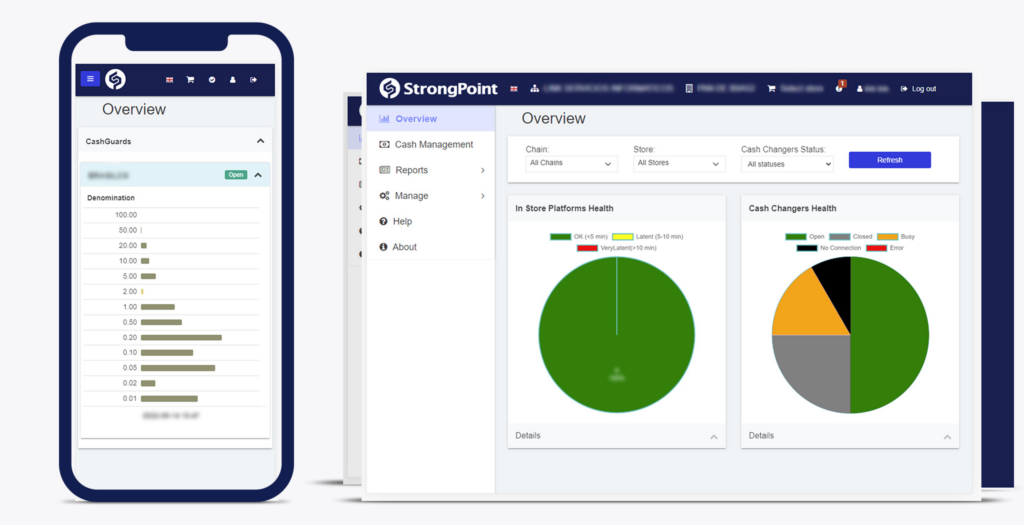 Instant overview
The software tracks every payment, collection or replenishment so you can follow how the cash moves in the stores and get a complete overview within seconds.
User-friendly design
The interface is developed to ensure optimum user-friendliness – making it fast and easy to navigate the system even for new users.
Cash insights
The system offers improved financial control and more accurate reports. By optimising the cash levels to your needs, you can reduce the CIT and costs of change purchases
Single Sign-on support
By connecting Retail Suite to your HR-system, you can control the user rights based on job title and access levels directly from your system. it also offers a "single sign-on" where the access to Retail Suite is synchronised with the system sign-on.
Some of the features
All the functions you need for the solution to work seamlessly and simplify staff activities.
Central management with store mapping
Retail Suite – CashGuard enables central cash management for large retailers with several stores and districts. To get an overview and make the information accessible, you can create clusters of stores based on for example; the district, the chain or store type.
Cloud-based
You can access the software from anywhere in the world if you have an internet connection. No matter if you are on the store-floor or in an aeroplane, you can always see what's going on in your store or district.
Role-based
The system is role-based, and everyone from the Operation Manager to the Cashiers can be granted unique user-based access and rights.
Customised reports
With customised reports, you can follow the trends and levels of your cash flow in a format that suits you.
Can be used on all devices
You can keep track and manage your cash handling with a smartphone, tablet or computer.
Cloud-based solution for easier and faster data
With StrongPoint's cloud based retail suite you can get updates remotely and monitor several stores on chain level
The role-based software tracks all events so you can follow how the cash moves in the store. You can access the user interface on any computer or mobile device via a web browser. The retail suite comes as standard when buying a CashGuard solution.
Contact us today
Interested in our solutions? We'd be happy to connect! Reach out using the form below and we'll get back to you as soon as possible.
Thank you for getting in touch. We will get back to you as soon as possible.