StrongPoint qualified as LS Retail Platinum Partner 2022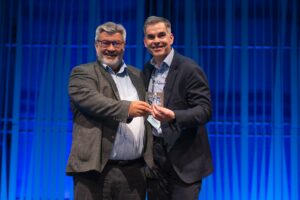 StrongPoint is proud to announce it has been named LS Retail Platinum Partner for 2022. The Platinum Partner level is a remarkable achievement, limited to companies who displayed exceptional dedication to the LS Retail solutions including LS Central and LS One and drove impressive sales success during the previous year.
"It is a great honour for us to be recognized and awarded as a Platinum Partner of LS Retail. We are glad to be acknowledged as one of the best partners due to the results achieved with the LS Central solution. A strong partnership bond, mutual trust, and a customer-oriented approach have once again proved to ensure outstanding results," – says Rimantas Mažulis, StrongPoint Baltics SVP and MD.
The partnership between StrongPoint and LS Retail started in 1999, when StrongPoint first introduced the Microsoft Dynamics NAV (now – Dynamics 365 Business Central) solution to retailers in the Baltic region. As a certified partner, StrongPoint provides services such as customizations, localization, project management and technical support for LS Retail solutions.
"We recognize our partners' hard work and their impact on our customers and global community. By demonstrating continued dedication to LS Retail solutions, and through comprehensive domain expertise, they keep helping retailers worldwide achieve their goals. We are delighted to honour StrongPoint as LS Retail Platinum partner and we look forward to growing the global LS Retail reach with our partners in 2022 and beyond," – says Kristjan Johannsson, Chief Commercial Officer of LS Retail.
About LS Retail
The LS Retail software solutions are sold and implemented worldwide through a large network of certified partner companies. The LS Retail partner ecosystem has grown steadily over the years and today counts over 380 companies in 88 countries. To become an LS Retail partner, companies need to satisfy a specific set of requirements, including passing official training in the LS Retail solutions.