StrongPoint introduces modern and convenient checkout solutions for SIA SPAR Latvia
Published:
17. November 2022
The international retail chain SIA SPAR Latvija in cooperation with the leading retail technology solutions company StrongPoint has introduced modern and convenient POS system solutions in SPAR stores in the towns of Saldus and Liepaja. This will make it more convenient for store staff and mean faster shopping for customers.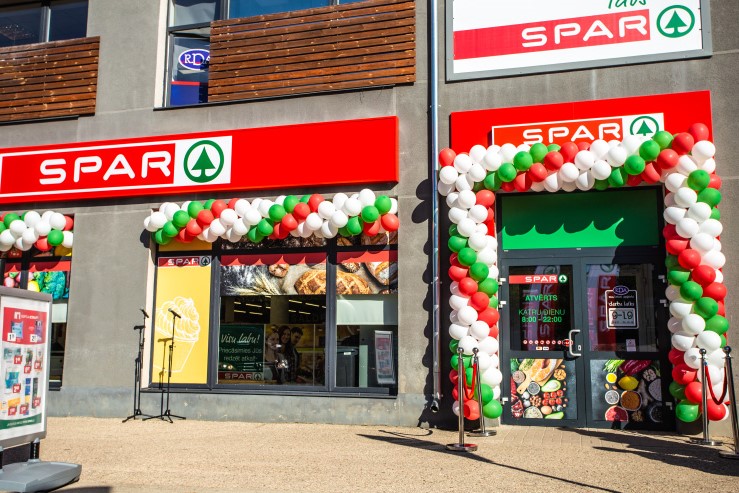 "One of the priorities of SPAR stores is to take care of both the well-being of our employees by providing a modern and efficient working environment, and to create a pleasant and positive shopping experience for our visitors every day. We regularly monitor our efforts to continuously maintain a high-quality level of customer service, therefore we are confident that the new technological solutions introduced in our stores will not only help to promote customer well-being and faster service but will also facilitate and improve the everyday life of our employees, allowing them to perform their daily tasks simply and conveniently," says Andris Vilcmeiers, Chairman of the Board of SPAR Latvija.
The new SPAR stores in Saldus and Liepaja are equipped with Centux POS software, which is designed for quick customer service, is easy to use for all employees and can be easily adapted to various marketing and promotion campaigns. POS hardware that delivers high performance over long working hours and is appropriate to the technical needs of the software is also indispensable.
"Modern and convenient POS solutions makes the various regular activities in stores much faster and more efficient. This is particularly important as the store network is planning to expand rapidly and stores are located far from each other. During this year, we plan to open new SPAR stores in several Latvian cities, which will be equipped with StrongPoint POS software and hardware solutions, as well as self-checkouts, which will ensure faster and more modern shopping in all SPAR stores in Latvia," says Jevgēnijs Semjonovs, StrongPoint Key Account Manager.
To ensure that the daily work routine of SPAR stores continues to run smoothly, StrongPoint will provide technical support and maintenance of the system, as well as find new solutions.
About SIA SPAR Latvija
SIA SPAR Latvija was established in July 2021 and has been granted a license by SPAR International to establish a chain in Latvia. SPAR is one of the largest retail chains in the world, with a consolidated turnover of €41 billion in 2021, operating 13,600 stores in 48 countries. The first SPAR store in Latvia opened in Saldus in the first half of August, and the second one in Liepāja at the end of August.