Self-checkouts are keeping the pace
Published:
5. February 2019
The demand of self-checkouts isn't decreasing, on the contrary, it's even gaining momentum. Strategical actions of retailers prove that – one of the leading retail chains in Baltics IKI, part of REWE group, is investing more into self-checkouts and has purchased a significant number of self-checkouts from StrongPoint.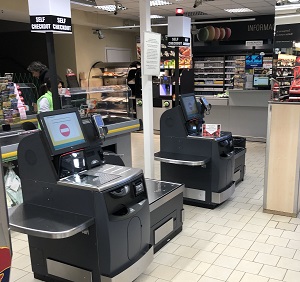 Self-service is one of the major saviours when looking at the human resources issue as one attendant can serve up to 8 checkouts at the same time. The combination of traditional and self-checkouts allows retailer to manage the customer flows more efficiently. Both shopper and retailer win because it improves the performance of the checkout zone and increases the speed of customer service. Shopping not only becomes a faster but also an enhanced experience.
For the retail chain IKI applying self-checkouts is not a novelty, since the company was the first to introduce self-checkouts in Lithuania a decade ago. Therefore, the decision to acquire such a significant number of self-checkouts was determined by the real benefits of the solution, proven at the stores.
"Customers' trust and continuation of partnership demonstrates that we are not only seeking to be the innovators, constantly offering new solutions, but also bringing the real value for retailers with both our proprietary and 3rd party products. This is clearly noticeable during everyday operations of the store," says Rimantas Mažulis, SVP of StrongPoint Baltics.