Many years a customer, Fidelitas continues working with StrongPoint
Published:
11. February 2019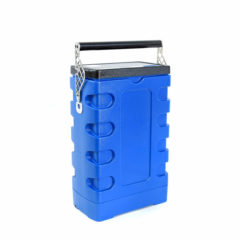 StrongPoint Cash Security has taken a big step in Italy's market and will deliver more than 100 security cases to the market leading CIT company. The company chose the Q case Maxi, a multi-purpose security case for bulk cash and ATM cassettes. It is StrongPoint's largest ever order of security cases in Italy and the delivery is scheduled in February. This order expands StrongPoint's coverage area from Rome to Bergamo region, where the head office of Fidelitas is based.
The customer chose StrongPoint because of a few key advantages. Firstly, StrongPoint has been the supplier of security cases for the client for several years. In that time a good key account has been established with the customer. Secondly, the security cases that StrongPoint provides are of high quality, security level and ergonomic. Thirdly, StrongPoint was flexible to adapt to the current key system therefore the customer didn't need to apply many changes.
With the new StrongPoint security cases, the customer will be able to provide faster and more efficient service. StrongPoint is happy to be the supplier for such a significant client and the substantial order provides a great reference to other potential customers.