Long queues make French retailers lose 10% of shoppers
Published:
19. December 2017
The research company Harris Interactive has conducted an opinion poll on behalf of StrongPoint. The poll was aimed at understanding the habits of French shoppers. The researchers investigated what French shoppers do when they face long queues in store. They also looked at how their actions affect the retailers and whether there are any solutions to the queue problem that would make shoppers more satisfied and retailers more profitable.
The main insights revealed by this study:
47% of those surveyed state that 3-4 minutes of waiting in a queue is the maximum acceptable time for them.
78% of them decided not to enter a store if they thought the queue was too long.
50% of those surveyed said that they don't take any action if they end up in a long queue.
18% said they shop online at least once a month.
23% of the respondents use a Click & Collect solution to pick-up their purchases.

A 10-minute wait is the max for French shoppers
For 6 out of 10 respondents, the maximum waiting time to pay for their purchases when they are in a shop is less than 5 minutes. While a third of them say they can wait between 5 and 10 minutes (34%), the 10- minute limit seems to be the maximum acceptable limit: in total, 94% of the French say they can wait no more than 10 minutes.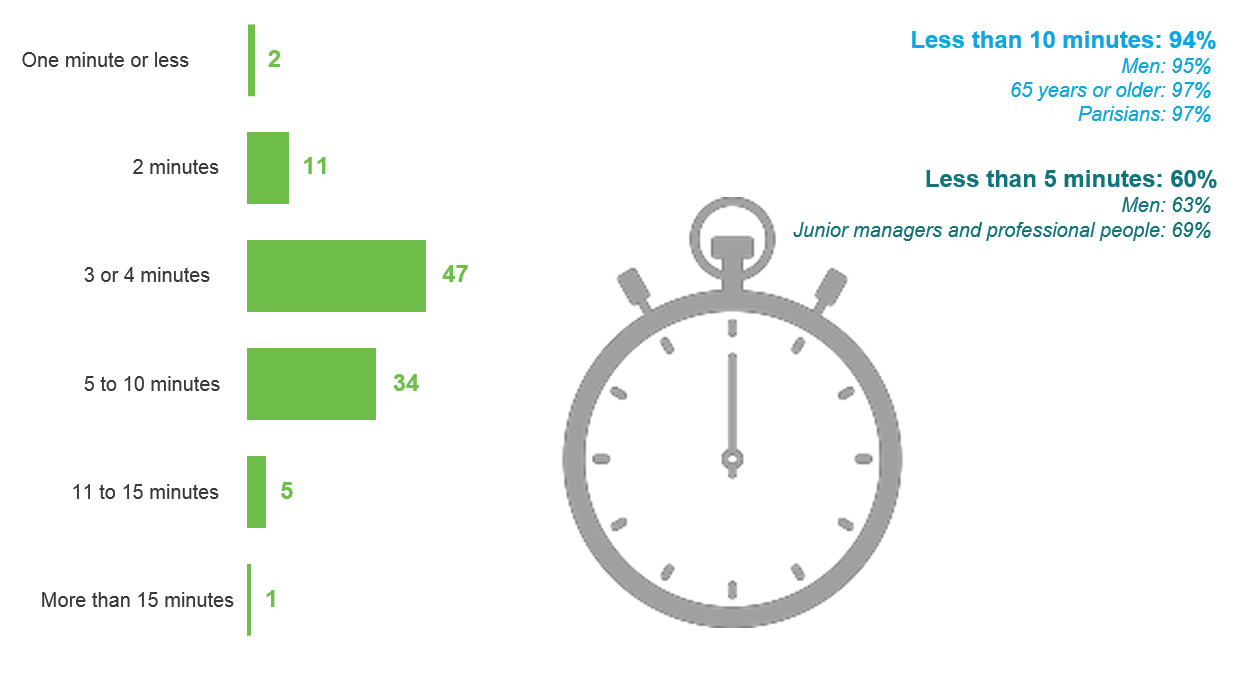 If there's a long queue, the French mainly say they grin and bear it (50%), or move to an automatic checkout (31%), if they are available.
One more interesting fact is that executive managers and high-level professionals (69%) are one of the most impatient customers. The loss of these customers affects retailer financially, because this segment has the higher purchasing power.
Parisian retailers lose customers because of long queues the most
The poll shows that 8 of 10 of the respondents did not to enter a store with a long queue (90% of executives and professionals, 82% of those under 35 years old). For 29% of these respondents, having to choose another store happens several times a year. Around three quarters of the respondents (76%) say they have decided not to make a purchase. They leave the store once they arrive at the checkout if they face a long queue. 85% of those people live in the Paris region.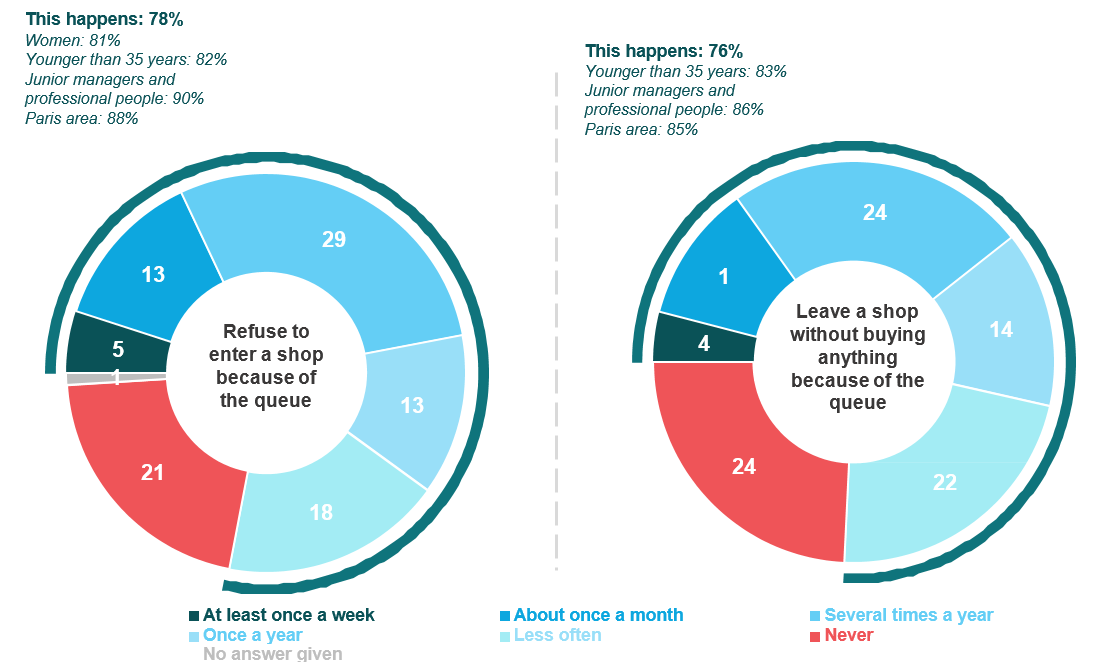 French shoppers are not active problem solvers
Half of the respondents who face a long queue do not take any measures to solve this problem and wait patiently. It does not mean they feel pleased with the process of shopping however. Every tenth shopper leaves the store without goods when faced with a long queue. The results indicate that French shoppers are not active problem solvers. Just one-third of those who face long queues try to find another option to buy their goods. One such option can be using self-checkouts (if they are already integrated in the store). Just 5% of the respondents say that they try to use special service cash registers (e. g. express checkouts, cash registers reserved for parents with children, etc.). Some 3% ask the staff to open additional cash register. Only 1% tell the cashier to hurry up.
Are there any technological solutions to solve the queue problem?
To avoid queuing in stores, 18% of the respondents say they do their food shopping online at least once per month. Online shopping is particularly popular among people the age of 35 (26%), managers and professionals (25%) and parents (27%). Among the delivery/pick-up options available when ordering over the Internet, "Click & Drive" comes first (55% of respondents), then home delivery (37%) and "Click & Collect" (23%).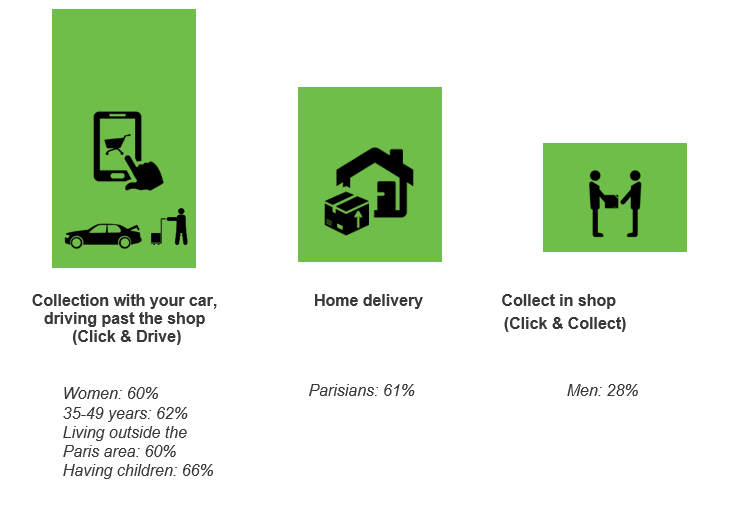 Speed is the deciding factor when choosing pick-up option
Among those who use the system "Click & Collect", that is to say, picking up the groceries in the store, it is the speed between the time of the order on the internet and the withdrawal of the merchandise in store they prefer. Thus, 53% of respondents say this is a quicker solution. Another 44% of them say they choose Click & Collect so they don't have to wait in queues. 32% say they use it because the choice of pick-up places is convenient. The last 19% say they choose it because it's cheaper than home delivery services.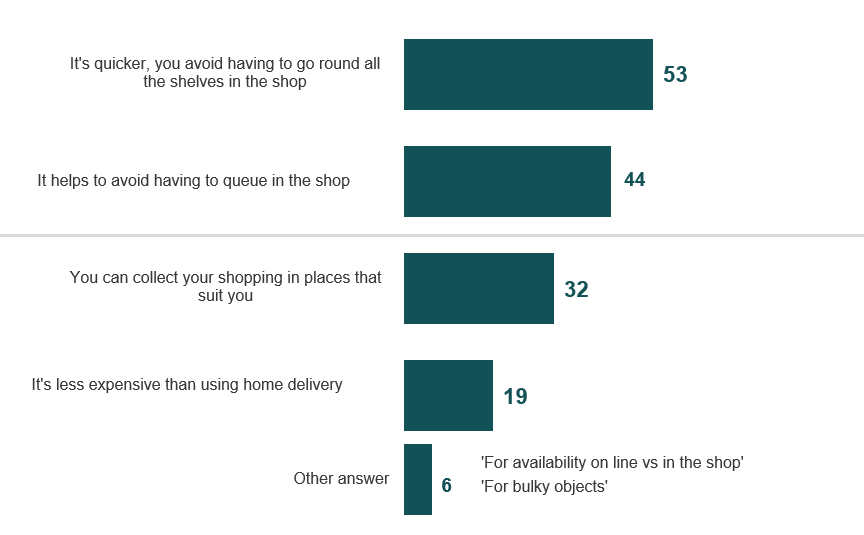 This study shows that in general French surely are not satisfied about current situation. They expressed what time of waiting is acceptable for them. They tend to give upmaking their purchases or even entering to the store when they notice long queues. This tendency can become a huge loss for retailers. Therefore, using new technologies is critical to improving customer experience and at the same time optimizing retail operations.
One fast and simple way retailers can start to adapt is by improving on their Click & Collect programmes, arguably the fastest growing area within omnichannel retailing. Since it is more profitable for retailers than home delivery Click & Collect gains more and more popularity among retailers. However not all Click & Collect programmes ensure fast and convenient experience for the customer.  According to Forbes, nearly third of online shoppers said they endured "long waits" while store staff rummaged for their parcels in the back of the store. This is usually the result of inefficient operations from a lack of staff to assist customers. And inaccurate inventory data makes it difficult to fulfil orders from store stock.
The StrongPoint, a provider of technology solutions for retailers, is revolutionizing the well-established Click&Collect model with a unique alternative to the rudimentary processes currently used in most stores. A self-serve automated smart locker is an easy and secure way for shoppers to collect orders at their convenience and without the queues. Once the order is ready the customer is automatically notified by sms. They visit the store and simply scan a barcode to gain access to the secure compartment holding their purchases.
"Eliminating the frustration and inconvenience of queues by itself is a significant improvement to the customer experience. But it's just one of the benefits self-service lockers bring to Click&Collect. For the retailers self service lockers free up store staff and streamline retail operations in the process." adds Laurent Jamin, Country Manager France.
To summing up, modern customers will place significantly higher demands on their individuality of shopping. Therefore, alternative solutions for customer service will play a key role. It will make the shopping process for the customer more satisfying, convenient and faster.