Grocery lockers placed in new locations and new players are entering the market
Published:
11. January 2022
Grocery e-commerce has grown enormously during the pandemic, especially in new and different ways of click and collect pick-up solutions. Retail technology company StrongPoint, a leading supplier of click & collect temperature-controlled lockers to the grocery industry in Sweden and Europe, is now meeting a new and growing demand for grocery lockers place away from stores. New potential customers include real estate companies, logistics companies and municipalities.
As grocery e-commerce matures, new needs and expectations from consumers have emerged, not least regarding flexibility. "Get what you want, when you want and how you want," is what more and more people are expecting. StrongPoint, which is by far the largest supplier of tempered controlled lockers for food in Sweden and have customers such as Axfood, Coop and Ica, has conducted multiple surveys with YouGov to track trends in e-commerce habits.
Already in a survey conducted before the pandemic in January 2020, 24% of online customers stated that the ability to choose when picking up their groceries was one of the most important criteria when choosing an online grocery retailer. It was even considered more important than a fast delivery. In the same survey, every third person stated that they were interested in grocery lockers located at a 'junction' point, so-called hubs, where many people go past or frequent, such as at entrance car parks, petrol stations or even near their own home.
Now the market is starting to catch up to the demand. So far, grocery lockers in Sweden have mainly been placed in close proximity to grocery stores, but now StrongPoint sees an increased demand from completely new customer groups.
It is interesting to see how the market responds to consumer demand for flexibility, something that we at StrongPoint have been flagging for some time. It is clear that the market is now ready to invest in meeting the demand from consumers wanting to pick up their orders out of the town or in connection with, for example, their home, the entrance to car parks and other hubs. In Sweden, we are now seeing increased demand from completely new customer groups such as real estate companies, petrol station companies, logistics distributors, even municipalities have also stepped forward. Our collection of Click & Collect Grocery Lockers are optimized for such solutions, so we naturally look very positively at this development both for our own part, but also for the consumers, says Jacob Tveraabak, CEO at StrongPoint.
One of the new customers in Sweden is the last mile logistics provider Gordon Delivery, which has invested in StrongPoint's grocery lockers. Together with grocery retailer Coop, they are now testing placing grocery lockers in connection with shopping and residential areas in central Stockholm.
For us at Gordon Delivery, this is a next step in developing and complementing our service as a distributor of food deliveries. With the Click & Collect lockers, we can deliver the groceries to locations where customers passes by. We are now testing in two locations in Stockholm and are open to developing the concept in more places in the future, says Ali Ghoce, CEO and co-founder of Gordon Delivery.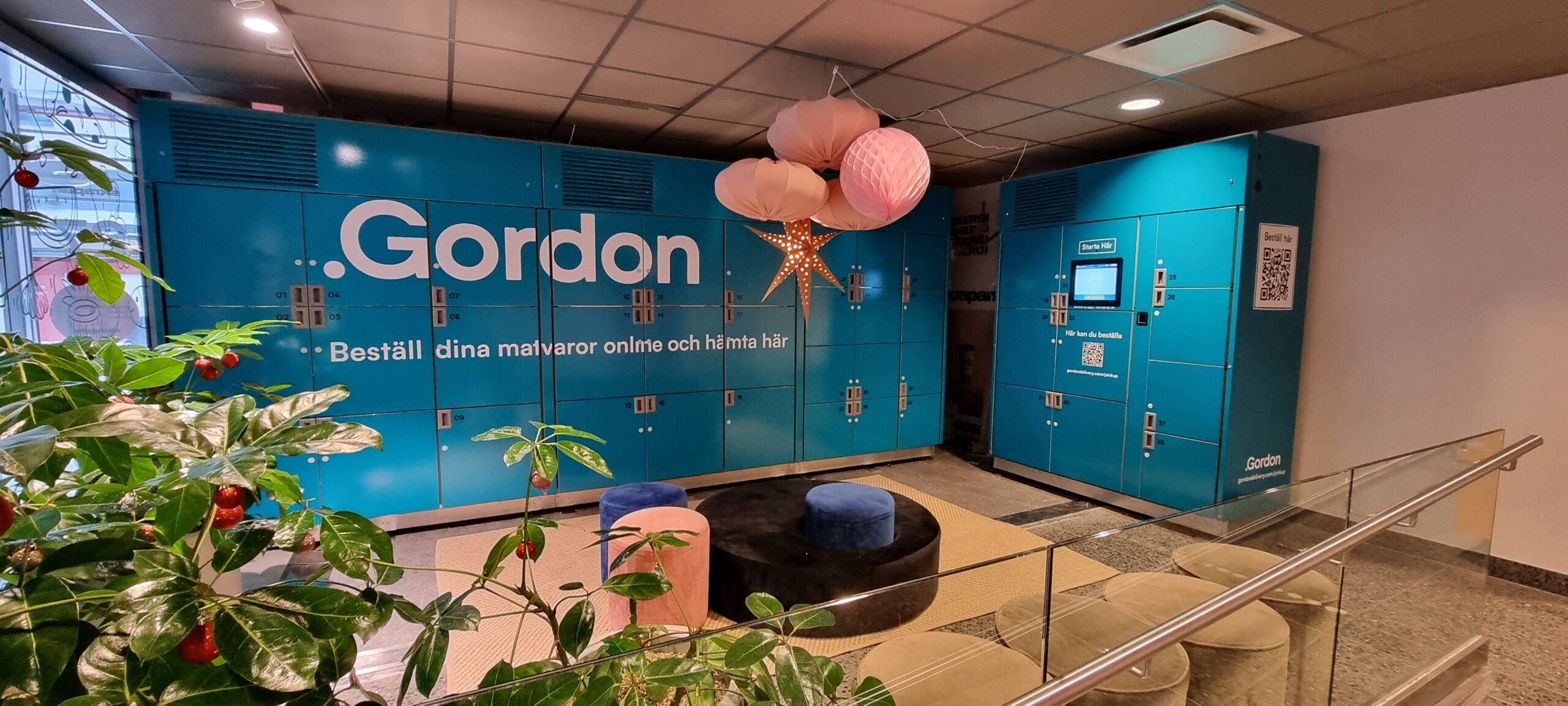 For more info, please contact:
Jacob Tveraabak, CEO StrongPoint, +47 908 21 370,  jacob.tveraabak@strongpoint.com
Ali Ghoce, VD och medgrundare Gordon Delivery, +46 10-551 80 00, ag@gordondelivery.com
Frida Kalin, Marketing Manager Sweden, StrongPoint +46 730 78 25 57, frida.kalin@strongpoint.com