How convenient is locker collection really?
That's an interesting question, and one that more and more consumers are asking. But really, the only way to find the answer is to try it yourself. Here is my experience: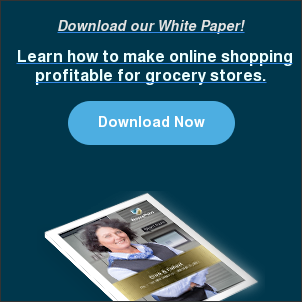 The other day I drove to the supermarket — but this was no ordinary shopping trip. Two minutes later, I left with four bags of our family shopping. That was quick and easy, I thought, compared to the usual trip around the aisles and checkout queues.
What's the secret? Well, this store has improved its customer service by offering locker collection. All I had to do was stop the car by the locker station, sign in and collect the bags from two locker boxes – one chilled and one for our dry goods. I put the bags in the trunk and left.
When I got home, I unpacked the bags and went out for a brisk walk. Now that beats a busy supermarket any day! And it's less frustrating than waiting for a home delivery. We've tried in-store click and collect too. That's convenient, but can be slow at busy times.
So, how does this suit our busy lifestyle? About twice a month, we order our regular groceries online. We're talking about mostly staple foods and other products that we consume regularly – things like coffee, milk, muesli, cheese, tea, soft drinks.
They might be staple foods, but we do have strong views about brands and prices — over time we get to know what we like. We keep these regular items as a shopping list in the online store. It's really convenient to just select the quantity of each product we need — the system knows what we like and we know how much we need.
When I placed the order, various delivery or collection options were available. I chose locker collection and selected when I wanted to collect the groceries. As we normally place our orders in the evening, I chose to collect next day. All in all, this really is a big time saver for our basic shopping.
We're not alone in thinking this way. Here's what Anne Werner, who blogs about her life as a mother, wife and woman, has to say about her experience of locker collection.
She was pleasantly surprised and very enthusiastic about the whole experience — it took her ten minutes to order online and just five minutes to park, collect and leave: "This is magical! So great! A small step for mankind, but a giant leap for a stressed out mother. Love, love, love!"
Was it just coincidence or luck that we both share the same enthusiasm? How about other people?
Studies of locker collections indicate that interest is growing — and consumers are getting faster! The average collection time is less than two minutes, the study reports. First-time users were a little slower; they spent about 45 seconds longer checking the locker station screen and array of locker doors. Practised hands however went straight in and made their collection without delay.
The study reveals two different types of typical customers, one being young mothers or parents that embrace the convenience during their stressful days. The other are budget-driven shoppers that value the ease of use of online grocery stores and the fee-free pick-up at the store.
I can see how shopping so quickly is very convenient. Another interesting finding: the person collecting was often not the same person who ordered. Maybe a husband collecting after his wife had ordered online, or someone collecting for a relative. That makes shopping very flexible, as well as convenient.

So yes, I agree with Anne — this is a giant leap for shopping convenience, really!
Find more information about Click & Collect here!